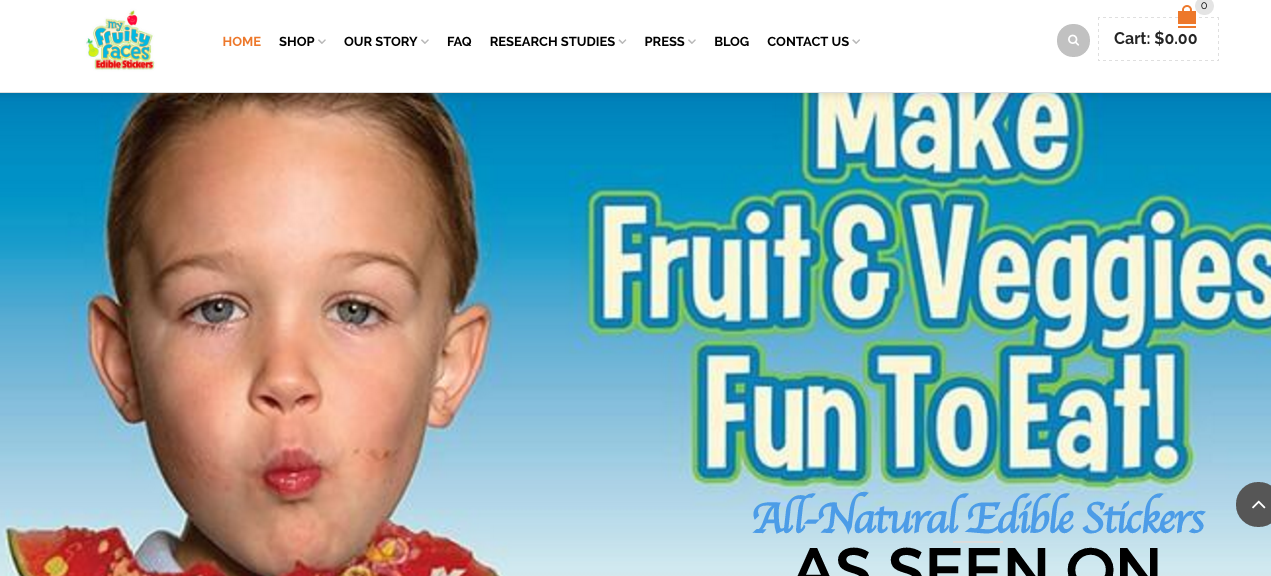 My Fruity Faces Announces New Website Launch
The newly redesigned website provides visitors sharper insight into the Company's mission, core values, and purpose
NEWS PROVIDED BY
My Fruity Faces
March 18, 2017, 9:30 PST
SHARE THIS ARTICLE
ALTADENA, MARCH 18, 2017 — My Fruity Faces announced today the launch of its newly redesigned website, www.myfruityfaces.com. The redesigned site offers easy and quick access to pertinent information and offers a more comprehensive understanding of the Company's mission and core values. The key features of the site include a cleaner and more attractive design for a more engaging user experience with enhanced search and navigation. The website also offers updated information on news and press releases, customer testimonials, Research Studies, and Affiliate program opportunities. The updated blog posts will include topics centered around children's healthy eating, tips on coupons, recipes, the state of the childhood obesity epidemic and much more. The new website has a professional clean design, enhanced rich content, improved functionality, and focuses on the Company's mission of giving children the gift of healthy by inspiring kids to eat healthier and be more active.
"We're extremely excited about our new website launch, we've worked extremely hard to provide a beautifully designed website for a better user experience for our vendors, partners, and more importantly our customers," said Bob Ntoya, CEO and Founder of My Fruity Faces. "We feel that the new site will allow visitors to have a better sense of our product "edible stickers" as we continue to increase our visibility and brand in the marketplace."
My Fruity Faces are deliciously flavored All-Natural Edible Stickers designed for application to fruits and veggies to make them fun, exciting and engaging for kids! They are a moisture sensitive product made of completely all natural edible ingredients and when placed on fruit or veggies they absorb moisture and dissolve into the food. There are various stickers of full faces, popular characters, and numbers that make eating fruits and vegetables fun for children of all ages.
My Fruity Faces' new website will be updated on a regular basis with news of character launches, new business activities, corporate milestones, events, and press releases. Visitors are encouraged to explore the website and sign up for newsletters from the Company at www.myfruityfaces.com.
About the Company
My Fruity Faces was created to be the link between healthy eating and an active lifestyle among children. Several studies including a Cornell University study shows pairing fruit and popular cartoon characters increases consumption of produce. My Fruity Faces offers "All-Natural Edible Stickers," to help kids develop healthier eating habits. When kids "play" with My Fruity Faces, the more fruits and veggies they consume. Ntoya stated, "With our 100% American-Made 'edible stickers' kids now enjoy eating fresh fruits and veggies. In fact, our stickers are just the ticket to encourage your kids to make healthier eating choices…just don't tell the kids."
Our "Edible Stickers" are available online at www.myfruityfaces.com and in select Wal-Mart locations in Southern California and are expected to be in over 3,600 Wal-Marts nationwide by the end of the year.
My Fruity Faces, LLC was founded in 2010 and is operated in Altadena, California. My Fruity Faces' mission is to "Give our children the gift of health by inspiring kids to eat healthier and be more active." Follow My Fruity Faces on Twitter, Instagram, and Facebook.
Media Contact:
Bob Ntoya
media@myfruityfaces.com
SOURCE My Fruity Faces